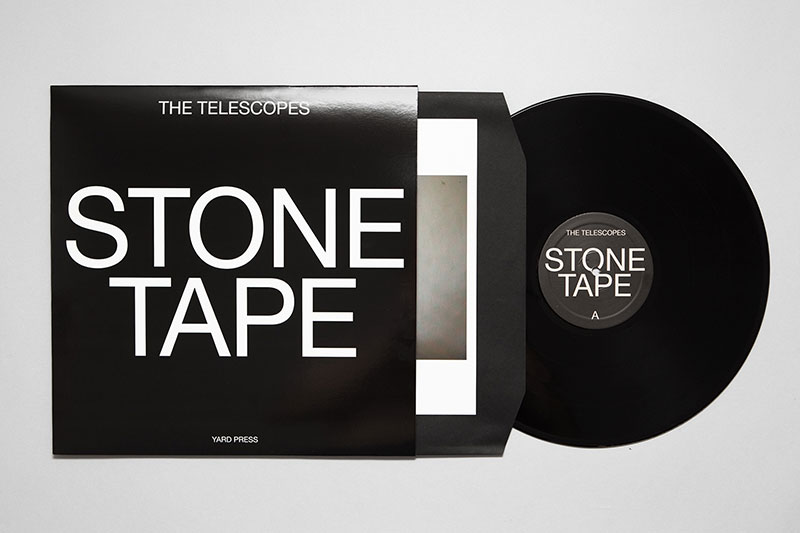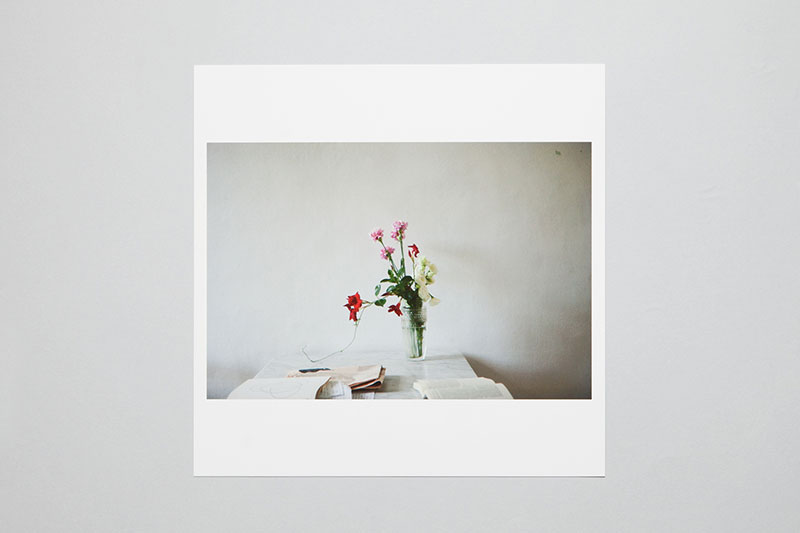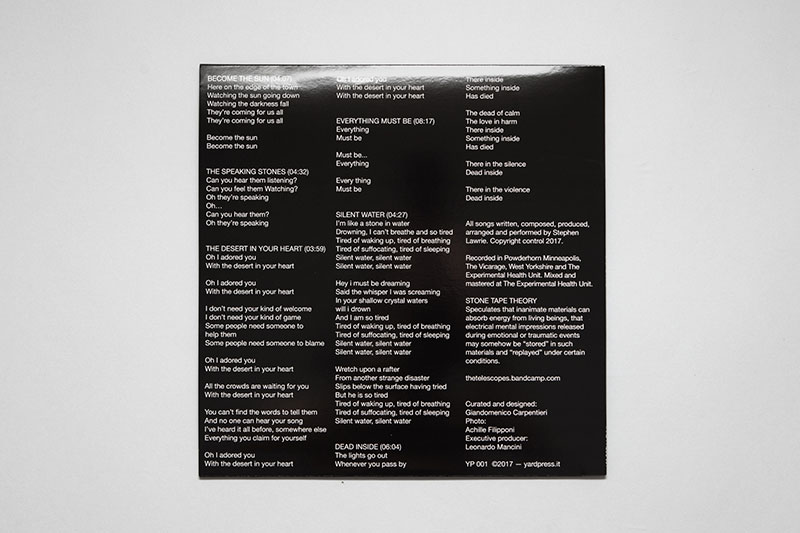 Stone Tape (Sold Out)
The Telescopes
Stone Tape è il nuovo disco dei Telescopes in uscita per Yard Press, che inaugura una serie di produzioni discografiche all'interno di un nuovo progetto artistico dedicato alla musica.
La collana, a cura di Giandomenico Carpentieri, nasce dalla volontà di creare una serie di dischi che si sviluppino in stretta collaborazione con gli artisti coinvolti: la proposta di partenza è quella di realizzare un concept album pensato appositamente per la casa editrice, all'interno di uno spazio libero, senza limiti creativi, dove poter proporre i progetti più sperimentali e concettuali, che poi saranno discussi e sviluppati attraverso uno scambio di idee e proposte tra artista ed editore. Fin dall'inizio l'idea fondante di Yard Press è stata quella di sviluppare un modello di produzione di contenuti culturali caratterizzata dall'approccio editoriale più che dall'oggetto della produzione stessa: cultura visiva, ricerca, movimenti underground, archivi, ed ora anche musica.
Stone Tape è un concept album che si ispira alla "Stone Tape Theory", teorizzata da Thomas Charles Lethbridge nel 1961. L'archeologo, parapsicologo ed esploratore sviluppò l'idea che i materiali inanimati possano assorbire energia dagli esseri viventi, e che questa energia mentale di natura elettrica rilasciata durante eventi emozionali o traumatici possa in qualche modo essere "immagazzinata" in tali materiali e "riprodotta" in determinate condizioni.
Le sei canzoni che compongo l'album sono state scritte, prodotte, arrangiate e suonate da Stephen Lawrie, fondatore dei Telescopes.
La foto contenuta nell'inserto presente all'interno del disco è di Achille Filipponi. La produzione esecutiva della collana è di Leonardo Mancini.
—
Stone Tape is the new album by The Telescopes released by publishing house Yard Press, which inaugurates a series of record productions within a new art project dedicated to music.
The series, curated by Giandomenico Carpentieri, comes from the desire to create a series of records that are born and developed in close collaboration with the artists involved: the starting point is to create a concept album specially designed for Yard Press, within a free environment without creative limits, where the artists can experiment with new solutions and propose the most experimental and conceptual projects that are
then discussed and developed between artist and publisher through an exchange of ideas. One of Yard Press's founding idea is to develop a model of cultural content that is characterized by an editorial approach rather than the object itself: could it be visual culture, underground movements, archives, and now also music.
Stone Tape is a concept album inspired by "Stone Tape Theory", theorized by Thomas Charles Lethbridge in 1961. The archaeologist, parapsychologist and explorer developed the idea that inanimate materials can absorb energy from living beings, and that this mental electrical energy, released during emotional or traumatic events, could somehow be "stored" in such materials and "reproduced" under certain conditions.
The six songs comprised in the album have been written, produced, arranged and played by Stephen Lawrie, founder of The Telescopes.
The photograph in the album is by Achille Filipponi. The executive production of the series is by Leonardo Mancini.
—
The Telescopes – Stone Tape
Vinyl 160gr
33 rpm
Insert included
Limited edition 500 copies
20.00 €